Cosmetic Dentistry in Burleson, Keller, & Dallas, TX
If you take care of your smile but you feel like it could use some help in the appearance department, our practice offers a number of different cosmetic services that can help you get your smile looking just how you want it to look. From teeth whitening to orthodontics, DFW Family Dentistry has the resources and expertise to make your smile stand out from the crowd. If you are interested in any of these services or you have any questions, feel free to reach out to our friendly team and we will be happy to assist you.
Get In Touch

Professional Teeth Whitening
If your teeth are healthy but you feel like they could look a little nicer than they currently do, professional teeth whitening might just be the answer you're looking for. Professional teeth whitening at a dental practice utilizes higher concentrations of whitening gel and the whitening process is monitored by a team of professionals, ensuring that your treatment is both safe and effective. Ask our team about our whitening services including Zoom! in-office whitening.

Porcelain veneers can solve many cosmetic dental issues all at once, as they allow patients to choose the exact color, size, and shape of the teeth that will make up their new smile. Traditional veneers are tooth-colored shells made of porcelain that are applied over the front of the teeth to enhance their appearance. They can also be used to restore the appearance of chipped, discolored or otherwise damaged teeth.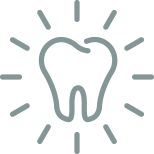 ClearCorrect
ClearCorrect aligner therapy allows patients to discreetly straighten their smiles using a series of barely-noticeable clear aligners. Once dental impressions have been made, patients are expected to wear each aligner for 20-22 hours per day for several weeks until it's time to start using a new one. ClearCorrect treatment plans are usually shorter than traditional braces and allow patients to continue eating their favorite foods and participating in their favorite activities.
Learn More
Want to make an appointment with us? Please contact your preferred DFW Family location to get your consultation scheduled.
Make Appointment