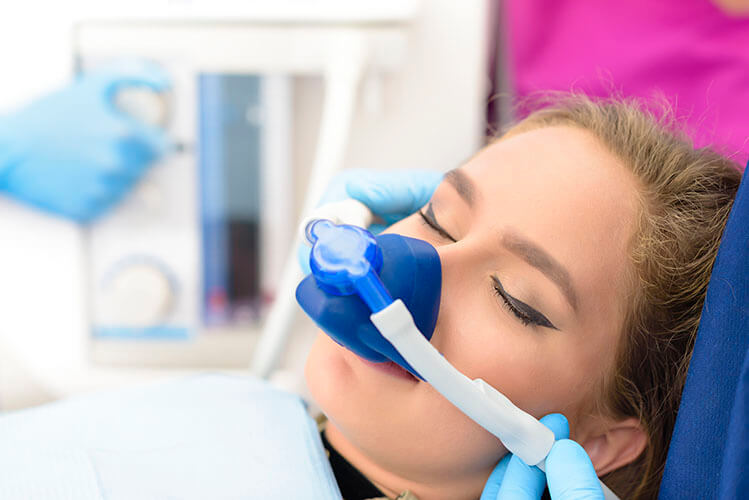 Will Dental Sedation Help with Anxiety?
August 12, 2020 8:31 pm
---
We know that not everyone loves coming to the dentist. Some patients suffer from dental anxiety. Perhaps you had an unpleasant dental experience in the past or are very sensitive to the sounds or feelings of having your teeth handled. We want you to know that there are options for sedation to help ease your nerves and make your experience more comfortable. Read on to learn about the different sedation options we offer at Cherry Blossom Family Dentistry in Burleson, TX.
Local Anesthesia
Local anesthesia is used in the area where the procedure will be performed to block any pain or physical sensation. There are no side-effects or after-effects from this type of sedation. Often just knowing that your procedure won't be painful will reduce anxiety.
Nitrous Oxide
If you're the kind of patient who doesn't do well even at cleaning appointments, consider nitrous oxide. Nitrous oxide, or laughing gas as it's commonly known, is perfect for helping you relax during your treatment. Plus, it's completely safe for kids! This harmless, sweet-smelling gas is administered with a mask that goes over your nose. It gives a gentle feeling of relaxation and drowsiness that wears off quickly once the mask is removed. There are no lingering groggy feelings so you will be fine to drive home.
Oral Conscious Sedation
Patients with moderate dental anxiety often benefit from oral conscious sedation. You will take a prescription pill before your appointment that helps to calm, relax, and block discomfort. We recommend you have a friend or family member drive you to and from your appointment. Possible side effects include grogginess, sleepiness, and temporary disorientation.
We Prioritize Your Safety & Comfort!
No matter how nervous you are about the dentist, don't delay your next appointment. Dental problems will only get worse. Let Dr. Jones and our friendly team know you have dental anxiety. We can make accommodations for your unique needs. Our team will walk you through any necessary treatment and answer questions you have about our dental sedation options. We want you to feel safe and comfortable throughout your visit with us.
---
Categorised in: Uncategorized