Signs & Symptoms of Oral Cancer
December 16, 2022 8:04 pm
---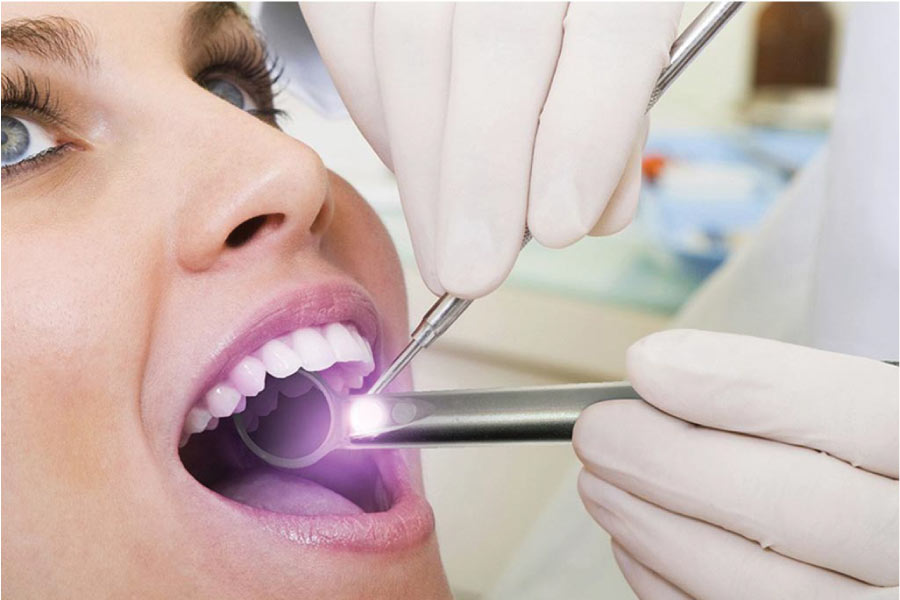 Oral cancer claims the life of one person every hour. Part of our mission at Cherry Blossom Family Dentistry is to deliver comprehensive preventative care to our patients to maintain healthy smiles and bodies.
Below, we'll break down the signs and symptoms of oral cancer as well as a step-by-step of the oral cancer screening procedure we follow at our Burleson, Dallas, and Keller dental offices.
Defining Oral Cancer
Oral cancer is cancer that originates in one of the following areas: your mouth, tongue, tonsils, or gums. While the causes of oral cancer, and cancer in general, depend on the individual, the leading causes of oral cancer include excessive alcohol or tobacco use and exposure to human-papiloma-virus-16, or HPV. Other factors include diet, oral hygiene, and genetics.
Signs & Symptoms of Oral Cancer
The signs and symptoms of oral cancer include:
Sore on mouth or lip that won't heal
White or red patches in mouth
Lump or growth in mouth
Pain in mouth or ears
Difficult or painful swallowing
Inexplicably loose or wiggly teeth
If you are experiencing any of the above symptoms, please contact your dentist right away for an oral cancer screening. The process only takes a few minutes and could quite literally save your life.
Oral Cancer Screenings in Burleson, Dallas, & Keller, Texas
An oral cancer screening is a quick and simple procedure that doesn't require any equipment or instruments. Your dentist will carefully examine your tongue, cheeks, gums, and lips, looking out for any of the above symptoms. They will also massage your lymph nodes for bumps or swelling. If you use tobacco and alcohol regularly and/or have a family history of oral cancer, our staff at Cherry Blossom Family Dentistry will incorporate oral cancer screenings into your biannual examinations.
How to Prevent Oral Cancer
There are ways you can prevent or minimize oral cancer. The best things you can do is avoid tobacco and excess alcohol consumption, follow a balanced diet that is low in excess sugars and carbs, and brush and floss your teeth diligently twice a day. Seeing your dentist twice a year for routine cleanings and exams is another very important way to prevent oral cancer, so if you haven't scheduled your biannual exam yet this year, you should do so ASAP.
At DFW Family Dental, we offer comprehensive dental services for the whole family at an affordable price for everyone. Please contact us today at one of our dental offices in Dallas, Keller, or Burleson. We'd love to see you!
Contact Us
---
Categorised in: Family Dental Care, Oral Cancer Screening, Oral Health, Oral Hygiene