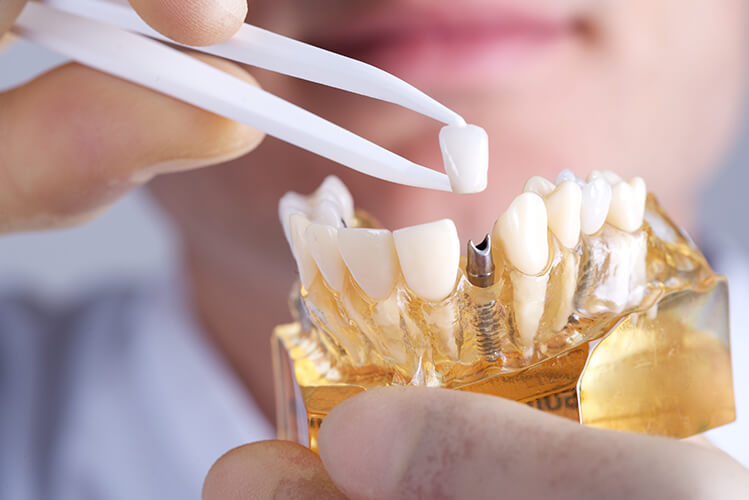 Am I a Good Candidate for Dental Implants?
October 28, 2020 8:10 pm
---
You don't have to feel hopeless if you've lost one or more of your permanent teeth. Dental implants are one of the most effective, natural-looking tooth replacement options available, and we are proud to offer dental implants at Cherry Blossom Family Dentistry!
What are Dental Implants?
Dental implants are a wonderful restorative solution for those who are missing single or multiple teeth. Dental implants are considered a permanent restorative solution because the replacement teeth are connected to titanium rods that fuse with your jaw bone, acting as strong replacement tooth roots. Because of this, you can chew, talk, and smile without having to think twice about your implants. Dental implants can be topped with crowns, bridges, or even be used to support dentures, depending on how many teeth you are missing.
Who is a Candidate for Dental Implants?
We approach each case individually at Cherry Blossom Family Dental, so we encourage you to schedule a consultation with us to determine if you are a candidate for dental implants. Generally speaking, you must have proper gum and jaw bone strength in order to support dental implants. In some cases, you might qualify for a bone graft to strengthen your jaw bone ahead of receiving dental implants.
Procedure for Dental Implants
The process for receiving dental implants takes place over the course of a few months depending on your individual case. During your first appointment, your dentist will place the titanium rod below the gum line by creating a small incision in your gum. It will take a few weeks for the rod to properly fuse to the jaw bone. After you've had time to heal, we'll cut the gum to expose the titanium rod and place the crown, bridge, or dentures over the titanium rod to complete your dental implant.
How to Care for a Dental Implant
Dental implants are perhaps the closest you can get to natural teeth. Because of this, you can treat your dental implant just as you would a natural tooth. You can brush your implants and floss around them without having to change up your oral healthcare routine too much. Just be sure to brush and floss your teeth consistently twice a day to keep your implants lasting for years to come!
Affordable Dental Implants in Burleson, TX
Find out if you are a candidate for dental implants by contacting Cherry Blossom Family Dentistry to schedule a consultation. If you are concerned about budgeting for your treatment, fear not. We accept a variety of payment options and financing plans. We look forward to seeing you!
---
Categorised in: Dental Implant