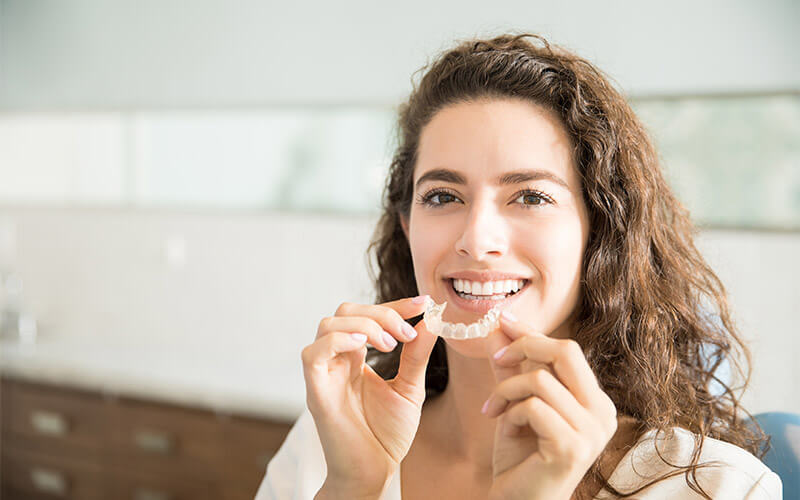 Am I a Candidate For ClearCorrect?
July 31, 2020 2:42 pm
---
If you want straighter teeth, ClearCorrect™ is the most convenient way to get there! Cherry Blossom Family Dentistry in Burleson, TX is happy to offer clear aligner therapy to our patients as an alternative to traditional braces. ClearCorrect aligners are more comfortable and usually straighten your teeth faster. Because they're made from clear plastic, they're also barely visible. But how do you know if you're a good candidate for ClearCorrect?
Should I Get ClearCorrect?
ClearCorrect aligners fix mild to moderate crowding and spacing problems so they work for most patients. For more serious issues, traditional braces are still the best choice. When you come in for a ClearCorrect consultation, Dr. Jones will take a look at your teeth. He'll be able to let you know if you're a good candidate.
How Does ClearCorrect Work?
During ClearCorrect therapy, you'll move through sets of clear plastic aligners. Every 2-3 weeks, you'll come in for a new set. They are custom-made just for you and will gradually push your teeth into the proper position. At home, you should wear your aligners for at least 22 hours each day. You can remove them for eating and brushing, and important business meetings, which is something you can't do with traditional braces! The plastic is comfortable and clear, so you can smile with confidence!
Caring For Your Aligners
To keep your aligners at their best, always rinse them in cool water whenever you take them out. When you're cleaning your teeth in the morning and at night, clean the aligners with a soft-bristled toothbrush. Use a separate toothbrush though because you don't want to use toothpaste on your aligners or they'll get scratched. We'll give you more detailed instructions when you get your first aligners.
Schedule a Consultation
In the past, adults often decided to pass on metal braces even though they wanted to fix their alignment issues. Now, ClearCorrect aligner therapy offers a discreet and comfortable alternative. If you want to know if you're a good candidate or you have any questions, please contact our office today!
---
Categorised in: ClearCorrect